A Quick Breakdown of the History of Text Messaging
We've come a long way since the first text message was sent by former Sema Group Telecoms developer Neil Papworth to Richard Jarvis at Vodafone in 1992. That message was a simple "Merry Christmas". And because phones didn't have keyboards at the time,  Papworth had to type the message on a PC. Before that, SMS were primarily used for basic network notifications.
Just like with any new technology, initial growth for SMS was slow. Most early GSM mobile phone handsets did not support the ability to send text messages. The first SMS gateways for mobile phones were primarily used for network notifications like informing users of voice mail messages.

The Evolution of the Text Message Keyboard
It took a while for mobile phone manufacturers to support texting. This timeline will probably seem familiar to you:
Your first memory of texting likely revolves around how annoying it was to do. You know, the type where you had to tap a digit multiple times to cycle between the letters.
Next came the T9 predictive text technology. This helped reduce the number of taps needed, but it wasn't perfect.
Full keyboards on mobile phones were first introduced in 1997 with the Nokia 9000i Communicator. It became a popular feature in the late 1990s to early 2000s.
Most models eventually adopted the QWERTY keyboard, a layout we've grown accustomed to in computers. Companies like BlackBerry still produce devices with QWERTY keyboards in 2019.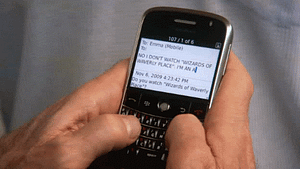 In 1999, messages could be sent between different networks and emoticons were created in Japan. 🙂
2007 was a milestone year for text messaging. It was the first time in history Americans sent/received more messages than phone calls. Still, it took until 2010 for the word "texting" to be added to the Oxford dictionary. A few years later, "emojis" were embraced by the masses and the term was also introduced to the dictionary.
Now, it's hard to imagine a world without text messaging. Over 6 billion SMS are sent daily, and it's impossible to estimate how many instant messages are sent using different communication apps. The feature has grown from being favored by tech-savvy developers to something of a universal standard.
Texting has allowed us to be more efficient, independent, and direct in our communications. When you're running late, you can quickly text someone to let them know. Texting really has streamlined how we go about simple forms of communication.
Understanding the Technology Behind SMS
SMS is a stateless communication protocol in which every SMS message is considered entirely independent of other messages. Enterprise applications using SMS as a communication channel for stateful dialogue (where a mobile-originated reply message is paired to a specific mobile-terminated message) require that session management is maintained externally to the protocol.
Transmission of short messages between the SMSC and the handset is done whenever using the Mobile Application Part (MAP) of the SS7 protocol. Messages are sent with the MAP mobile-originated- and mobile-terminated-ForwardSM operations, whose payload length is limited by the constraints of the signaling protocol to precisely 140 bytes (140 bytes * 8 bits/byte = 1120 bits).
SMS gateway providers facilitate SMS traffic between businesses and mobile subscribers, including SMS for enterprises, content delivery, and entertainment services involving SMS like TV voting. Considering SMS messaging performance and cost, as well as the level of messaging services, SMS gateway providers can be classified as aggregators or SS7 providers. And this is how different providers are interconnected: Message Service Centers (MSCs) communicate with the Public Land Mobile Network (PLMN) or PSTN via Interworking and Gateway MSCs.
Subscriber-originated messages are transported from a handset to a service center and may be destined for mobile users or subscribers on a fixed network (also known as application-terminated). Subscriber-terminated messages are transported from the service center to the destination handset and may originate from mobile users, from fixed network subscribers, or from other sources such as Value-Added Service Providers.
Making Sense of Instant Messaging Technology
Instant messaging (IM) technology is a type of online chat that offers real-time text transmission over the Internet. Short messages are typically transmitted between two parties whenever each user "sends" a message. Some IM applications can use push technology to provide real-time text, which transmits messages character by character as they are composed. Other more advanced instant messaging platforms can handle file transfers, clickable hyperlinks, voice over IP (VoIP, or video chat.
There have been several attempts to create a unified standard for instant messaging. These formats include:
IETF's Session Initiation Protocol (SIP)
SIP for Instant Messaging and Presence Leveraging Extensions (SIMPLE)
Application Exchange (APEX)
Instant Messaging and Presence Protocol (IMPP)
The open XML-based Extensible Messaging and Presence Protocol (XMPP)
Open Mobile Alliances' Instant Messaging and Presence Service developed specifically for mobile devices.
Many companies have tried to create a unified standard for IMing (AOL, Yahoo!, and Microsoft) and most of them have failed. These companies still use their proprietary protocols, but they never became the industry standard.
There are two ways to combine the many disparate protocols:
Combine the many disparate protocols inside the IM client application.
Combine the many disparate protocols inside the IM server application.
The second approach moves the task of communicating with the other services to the server. In reality, clients don't need to know about the IM protocol powering their favorite apps. This approach is popular in XMPP servers. However, the so-called transport projects suffer from the same reverse engineering difficulties as any other project involved with closed protocols or formats.
Acrobits: Your Solution for Mobile and Desktop IM/SMS Functionality
Remember when I mentioned that end-users don't need to understand what happens on the client/server side, they just simply want to text? It's true. A User only cares about their text being sent when they click send.
Acrobits currently supports two methods for SMS/IM in our Cloud Softphone-based applications:
IM via SIP SIMPLE (for on-net messaging). As long as the provider's SIP infrastructure supports the SIP SIMPLE protocol, this feature will work out of the box and your end-users will be able to text each other extension to extension.
IM via Web Services (for off-net messaging). This method allows users to send and receive SMS outside of their provider's network. It requires a provider to build two simple web services, one for sending SMS and another for fetching those messages.
Interested in learning more about this? Check out the following technical documentation for these APIs here:
NOTE: The two methods above can be combined. Both of them allow for sending MMS content like files, pictures, videos, sound recordings, and other forms of rich media. They also use one single user interface.
Rich Messaging
This feature allows you to attach images, videos, and files to messages. It requires a server to store the uploaded media, which can be provided by Acrobits or by the provider. The technical documentation for MMS is available here.
Multimedia messaging service (MMMSG) from Acrobits is a service that facilitates the file transfer process between users of Acrobits' applications. It's based on a "store&forward" principle where the files are uploaded to a server and links to these files are sent as a message with a special content type. On the server side, the store&forward is handled by Acrobits MMMSG server.
For signalization, SIP/SIMPLE or web service messaging service described in Send Message can be used. This channel must support different Content-Types and the value sent in the Content-Type must be passed from sender to recipient. SIP/SIMPLE typically supports this, and for web service messaging it's easy to accomplish.

Push Notifications
Acrobits is well known for utilizing push notifications for incoming calls. This solution was implemented to reduce mobile device battery drain, and to this day it remains one of Acrobits key competitive advantages. This alone is worthy of its own blog post. Instead, let's shift the focus back to messaging.
Push notifications are small messages that can reach audiences anywhere and anytime. If somebody likes a picture of your dog on Facebook, Facebook notifies you with a push notification. The same thing happens when you are subscribed to a channel on YouTube, and your favorite creator publishes a new video. YouTube will send you a push notification.
The "Push Token Reporter" feature allows providers to collect push tokens from their end-users' devices. These can then be saved to a database and used with various online tools to send a push notification to end-users. It's usually used for advertising, marketing, broadcasting, or conveying messages to everyone or targeted individual end-users.
Texting Isn't Going Anywhere
Texting has become the industry standard for quick communications. It may have taken 25 years from that initial "Merry Christmas" text to grow to the billions of SMS and IMs that are now sent every day.
Here at Acrobits, we're always following the latest messaging and technology trends. Our platform actively supports IM/SMS/MMS for mobile and webRTC-based desktop applications. For over a decade, we've never lost focus on the importance of the user experience. We're still dedicated to creating exciting new features for texting to deliver the best possible experience to our customers and their customers.