Now that we are past the chaotic year that was 2020, the silver lining is the lessons we've picked up along the way. And, boy, have we learned a lot. When it comes to working from home, having the right tools and boundaries can help you make the most of remote work.
Here are some of the top tips we've picked up over the past year of remote working:
Have a Dedicated Workspace
It can be tempting to take your work laptop around your home while you tend to errands or sneak into the kitchen for a snack. However, this doesn't help your productivity. Having a stationary workplace does.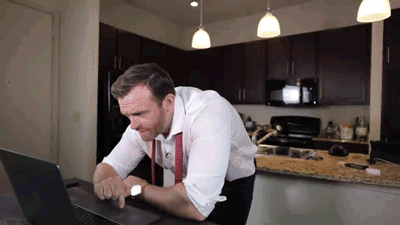 Dedicating a space in your home for conducting business trains your brain to switch into work mode when you finally wired in. This can boost your productivity when you are on the clock and help you disconnect when you aren't.
Also, the upside to working from home is the freedom to choose this workspace. You just have to be careful of what your coworkers might see in the background when you are in a meeting.
Listen to Music For Those Complex Problems
Who doesn't love music? Music can set the tone for your day and how you work through different tasks and complex problems. Finding the right song can do wonders for your remote work environment. 
Multiple studies have linked listening to relaxing music to improve focus, performance, and stress relief. This 2012 study in Learning and Individual Differences showed that students performed better on an exam while listening to classical music. 
As we continue to navigate changing work dynamics, anything that helps get us back on track is worth it, especially if it's your favorite tunes.  
Invest in Integrated Telecommunications
One of the biggest growing pains in switching to remote work environments was the disorganized transition to online-only communication. Without the proper systems in place, it is understandable that communication without the efficiency of face-to-face office interactions was an obstacle.
However, implementing VoIP and Unified Communication as a Service (UCaaS) has been the key to success when working from home. 
Having an integrated mobility solution blends function and enhanced collaboration, so you never have to worry about missing a call or juggling several passwords just to send a quick message. That efficiency means increased productivity and more time back in bed. 
A Noise Cancelling Headset Is Your Best Friend
Unless you live alone and have excellent neighbors, dealing with background voices and general noise when working from home can be a frustrating issue. Investing in a high-quality headset or headphones with added noise-canceling features can be the ultimate solution that will save your sanity. 
Nowadays, most headset models operate modern connectivity functions that allow you to connect to different audio sources. Whether you're on your PC or phone, this can be vital for virtual meetings, video editing, and general online media consumption. 
Plus, if multiple people are working from home, you don't have to be an unwilling participant in their meeting, but instead can go back to focusing on your work.  
Maintain That Important Work-Life Balance 
Without the physical separation of work and living environments, it can be hard to feel like you aren't always in work mode. However, with mobility solutions and regular hours, you can set boundaries that let you feel at ease.
Here, avoid using your personal phone for conducting business. Instead, set up a phone number that you only use for calls with colleagues and clients. When you use a VoIP softphone, you can get a highly functional and robust replacement for all your work communication needs.
With a mobility solution, you can physically separate how you socialize, and when you choose to do it. Whether you are working or taking a break at home, you can maintain a work-life balance. 
Working From Home: Final Lessons 
Remote work is a trend that isn't slowing down. As more of our personal lives and businesses switch to online platforms, working from home looks like a more long-term solution. If done right, this can be the positive change we need from rigid office culture. 
Having the right work-life balance is definitely a must, but the real game-changers are mobility solutions such as VoIP service and UCaaS.
Unified communication and integrated functionality give you the edge to enjoy working from home and mean business when you need to. 
Championing Mobility Solutions for Remote Work Success
Here at Acrobits, we know the importance of communication and collaboration when conducting business remotely. 
That's why we've developed flexible mobility solutions to fit every work environment. Whether you are a company needing a professional softphone or an individual looking for a telecommunication solution, we've got you covered. 
Are you looking to transform the way you work from home? The Cloud Softphone mobility solution offers best-in-class reliability and has everything you need to keep your users connected. Book a demo today with one of our mobility solution specialists to get started.
Cloud Softphone: Save time and money with
our white-label mobility suite